October 16, 2019
Police-Amazon Surveillance Cities: Will Your City Be Next?
How far would you go to protect your home and neighboring community? For some homeowners, the answer lays in home security systems, products such as Ring by Amazon that offer cameras, outdoor motion sensors, and smart doorbells. In some communities, police have even teamed up with Amazon's Ring surveillance systems, getting cities and Amazon to collaborate and provide discounts on these products. With 40 confirmed police-Ring partnership cities, the question arises: where will future police corporation surveillance cities pop up?
Currently, Amazon has partnered with police in places ranging from Dallas, Texas to Manchester Township, New Jersey to Aliso Viejo, California. Cities all over the country have taken contracts with Amazon, allowing homeowners the opportunity to put surveillance technology on their front porch. These subsidy programs typically allow city residents to receive a $100 discount on Ring products. This reduction is funded in half by the city, and the rest by Amazon. The footage from these cameras is accessible by police either by requesting it from the user, obtaining a warrant for the recording or by directly asking it from Amazon, if the appeal is within a 60-day period of the taping.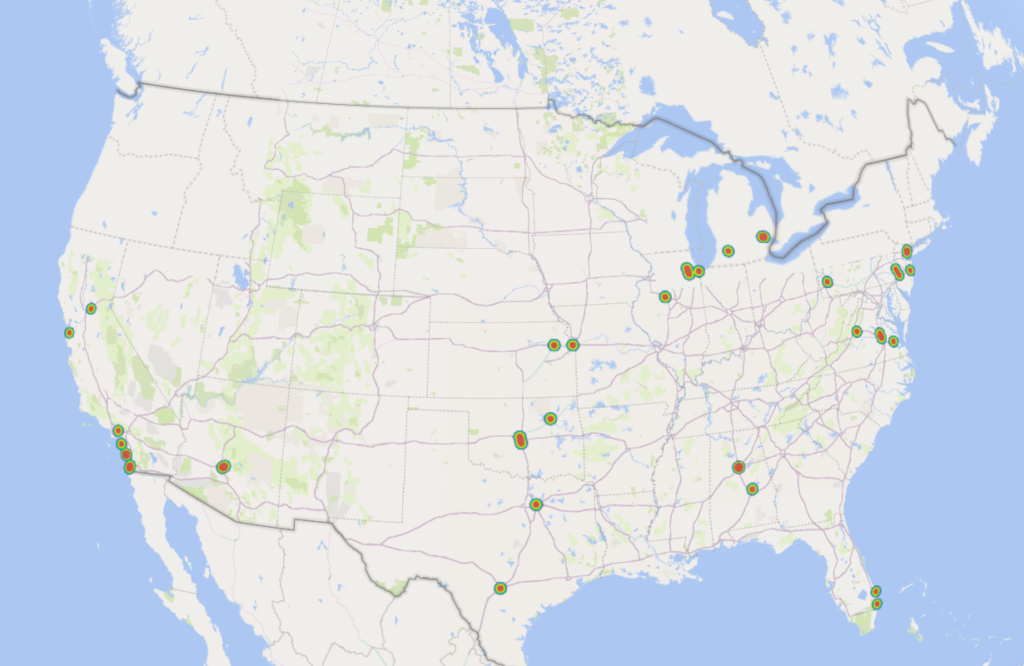 The map above shows the places where police have partnered with Ring.
So, what do these chosen cities have in common? The Lowe looked at household medium income, race, property crimes per capita, and crime per capita to see if the cities had any distinguishing factors. The cities with Ring partnerships did not stand out in any of these categories. Ultimately, these cities had nothing in common in these areas. Rather than select high crime areas where the Ring products may be of most value, Amazon is seemingly partnering with any willing city to further sell and market its product.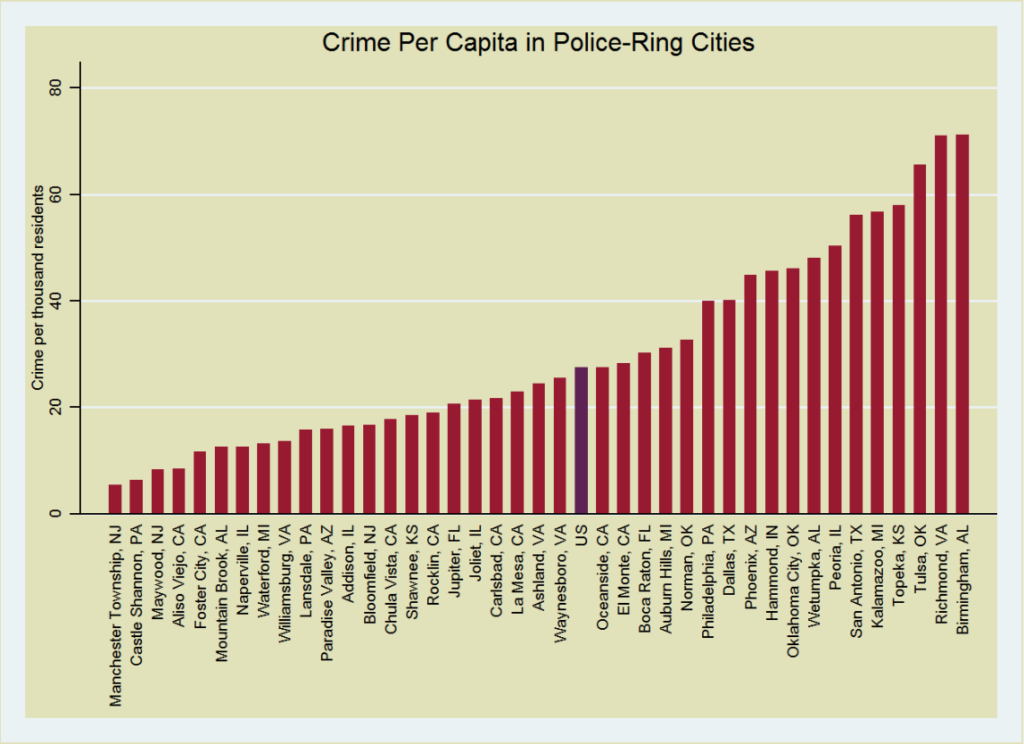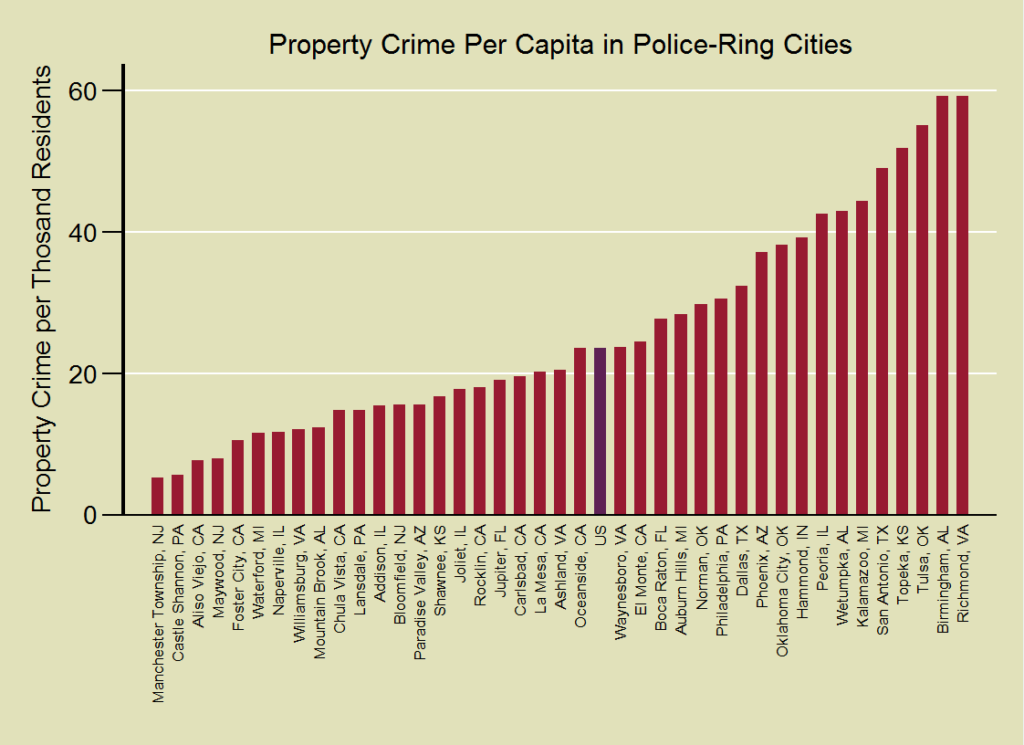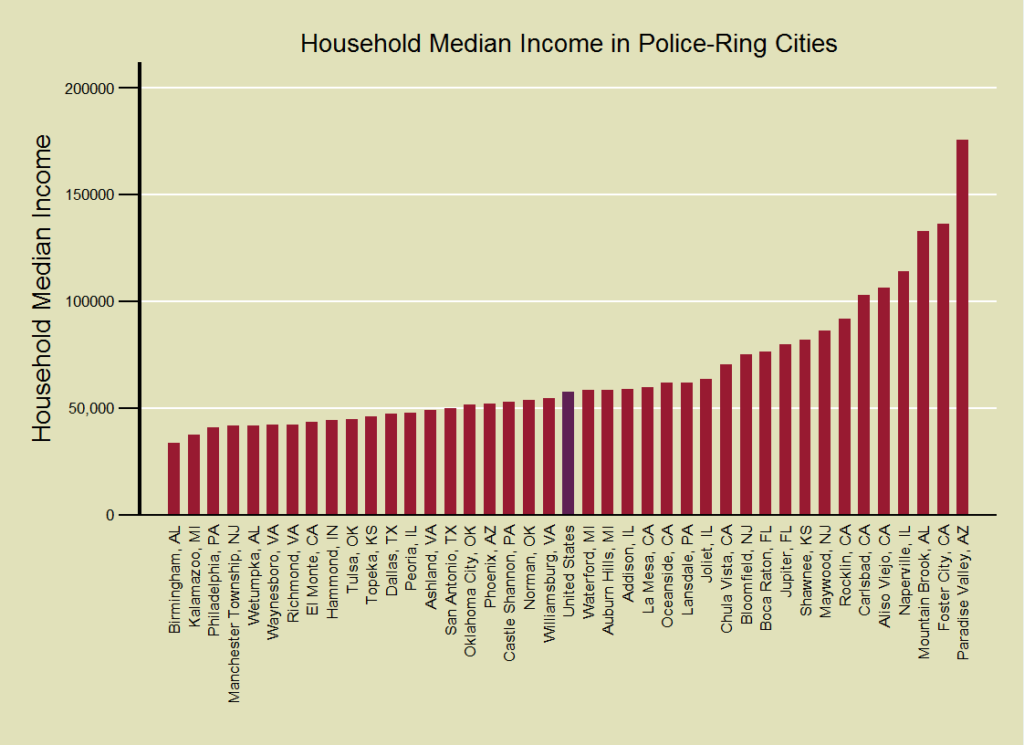 Source: U.S. Census
The market for home security systems is heating up, reportedly worth $45.6 billion in 2018, and expected to grow to $74.7 billion by 2023 – a 63.8% increase – according to a Press Release by Markets and Markets. Amazon latching on to take control of the market for home security systems through local partnerships is undoubtedly a smart move. In addition to gaining customers, Amazon contractually gains city promotions by requiring cities to make reasonable efforts to "promote the program provided in this Agreement on the City's website, social media platforms".
Ring states that these partnerships benefit communities, claiming in a 2017 Ring Home Security Study that "one Los Angeles neighborhood saw a 55 percent decrease in home break-ins after Ring Doorbells were installed on just ten percent of homes". On the other hand, critics of the surveillance system say that Amazon is helping to create a police-surveillance city. Contractually required fear-based marketing for Ring by the city officials and police promotes the idea that crime is a rising problem in cities. In fact, a survey conducted by the Pew Research Center found that 68% of people said that there is more crime in the U.S. than a year ago. FBI data shows that the truth is far from the promoted fear-based, rising crime idea.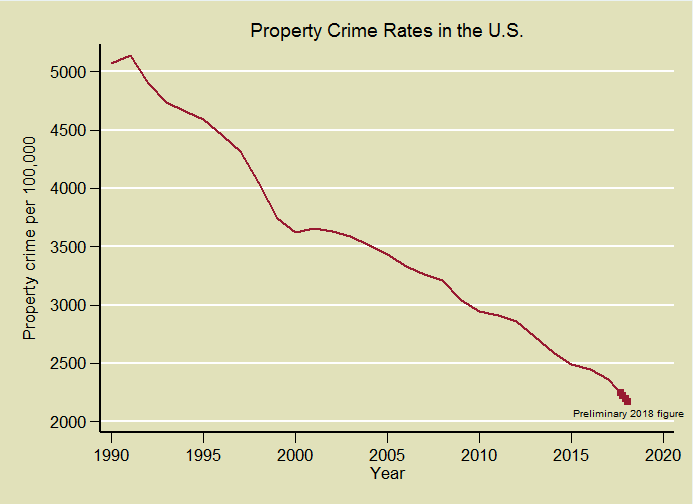 Source: FBI
How do you know if your city will become a police-Ring surveillance city? Ultimately, no obvious predictors stand out that might make your city a target for an Amazon partnership. While Amazon is willing to partner with any city to promote its product, city officials and police are equally willing to accept these partnerships in any attempt to reduce crime. Property crime is decreasing in the United States, and products that rely on fear-based advertising to create a constantly surveillance area promote unrealistically high public perceptions of crime while profiting Amazon.