May 5, 2020
Covid-19 brings back the house call via telehealth
Article written by Julia Garbee
The COVID-19 pandemic, with the support of new technology, has accelerated the implementation of telehealth platforms nationally. Dr. Anil Keswani, Chief Medical Officer of ACO's and Health Plans at Scripps Health, believes that COVID has given telehealth its moment. In San Diego, Scripps Health is experiencing a "rapid escalation" of telehealth: from 5 visits in February to 50,000 visits in April, averaging at around 2,500 visits per day. Forrester Research estimates there will be 1 billion telehealth visits nationwide in 2020. Is the virtual transformation of healthcare a temporary fix, like Zoom college classes, or is it here to stay?
Similar to the transition to online shopping, the healthcare industry must overcome not only logistical barriers, like shopping returns, but also the stigma associated with face-to-face doctor's visits. In addition, healthcare providers must convince healthcare insurance that telehealth provides a sufficient level of care to warrant coverage and reimbursement.
Telehealth has been arriving for years. In 2014, Dr. Keswani and his team at Scripps Health worked with Google to create "Talk with a Doctor," a platform that connected patients searching for medical information with doctors via video. Reflecting on the discontinued platform, Dr. Keswani learned that "patients wanted to connect with their own doctors and not be inconvenienced with 'too many clicks '." Nor was there impetus for providers to invest their time and money into a new virtual system when, at the time, the brick and mortar approach wasn't broken.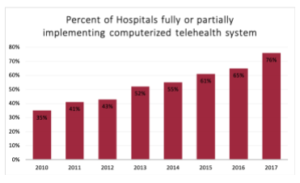 Prior to COVID-19, telehealth was defined by vendors like Teledoc, MDlive, and Doctor on Demand, which operate by beaming in a doctor from hundreds of miles away. According to Dr. Keswani, the inconvenience of creating an account, remembering to use it while sick, and forgoing a visit to your usual doctor reduced the types of users to mostly travelers and tech-savvy patients. Nearly 75% of Americans lack awareness or access to these platforms, J.D. Power finds. These services are still in use, but they lack 'longitudinal action,' meaning they can't even order a COVID test because they cannot receive results and act on those results to prescribe care.
New virtual health platforms can now facilitate a rich, personal experience with a patient's own doctor instead of using online vendors staffed with faceless doctors who might be across the globe. EPIC, a multi-faceted electronic database containing over half of the country's medical records, is the most prominent platform for telehealth visits. Patients can access their health information and schedule e-visits at their fingertips via their MyChart app. For providers that already used this infrastructure, like Scripps and UCDavis, the acclimation to a virtual world was smooth. Training was required in the early stages, but necessity and practice accelerated into eight days what they would have instilled over eighteen months. For smaller private practices, most of which are not using EPIC, an investment in technology to use telehealth and time to learn to use the technology was required.
At Scripps, more than 800 providers across primary care and specialty lines have shifted to virtual platforms. Parents are helping their children weigh and measure themselves at home in place of their annual check-ups. Dermatologists use phone cameras to diagnose patients. Routine diabetic follow-up information can be instantly sent to doctors in place of a long drive to the hospital. Technological developments, from predictive analysis to microphones that analyze a cough, bolster the capabilities of telehealth. Scripps Research recently conducted a 47,000 person study finding that analysis of heart-rates collected via smartwatches can predict the onset of flu-like illnesses in geographic clusters.
Telehealth also overcomes barriers for rural patients accessing specialists. Online vendors, like MDlive and Teladoc, act like an urgent care triage, typically not staffed with these types of providers and cannot provide the longitudinal care necessary for sicker patients. Typical drive time for some of the patients of Dr. Stephanie Crossen, a pediatric endocrinologist at UCDavis, is a lengthy two to five hours. Eliminating this drive time for even half of a patient's quarterly visits means not having to take time off of work or school to be seen for 20 or 30 minutes.
Around the clock-access to specialists could dramatically improve health outcomes for many Americans. 70% of American counties don't have a single child psychiatrist, yet suicide is the second leading cause of death for 10 – 19 year olds. Telehealth is well suited for mental health care. Patients can talk with a specialist on their own time from the comfort of their own couch. Providers can understand the context of their lives and environment, designing a treatment plan that fits into their routine.
For example, telehealth used by U.S. veterans with major depressive disorder cost $871 per year versus in-person therapy which cost $2998 per year, with no significant difference in QALY (Quality Adjusted Life Year) gain. A study that assessed the cost effectiveness of on-site collaborative care versus telemedicine-based collaborative care for depression in Federally Qualified Health Centers found that the on-site incremental cost-effectiveness ratio was $10.78 /depression-free day in contrast to $8.43/depression-free day.
Hospitals are finding innovative ways to use Telehealth to care for COVID patients. Specialists communicate with patients or other doctors through iPads to limit exposure. Doctors can monitor patients at home by using e-visits to check-in on them. Some hospitals are even discharging patients with thermometers and devices attached to their fingers, which relay vital, real-time health information.
Telehealth diverts mild cases of COVID from crowded hospitals and limits exposure to non-COVID patients and providers.
Still, telehealth faces challenges, especially the need to demonstrate to insurers that care is of sufficient quality. Prior to COVID, insurers were reluctant to reimburse and promote telehealth out of fear of overutilization and mistrust of providers. COVID-19 has forced their hand since that is simply where the care is being delivered. For the insurers' delivery system to survive, they had to quickly overcome their fears and figure out payment terms.
To mitigate the spread of COVID-19, policy around telehealth has been changed to provide a safe alternative to face-to-face doctor appointments. President Trump authorized the use of telehealth to tens of millions of Medicare patients, a dramatic expansion from exclusive use by seniors living in rural areas. Congress also allocated $200 million to COVID-19 Telehealth Programs to help health providers care for their patients remotely. HIPAA has eased regulations on telehealth visits, allowing patients to even use Skype and Facetime if necessary. Medicare, reconciling the ambiguous line between a paid phone visit and free phone call to a doctor with a question, requires all patients to use video calls for the service to be reimbursed. Most private insurers are using the guidelines set by Medicare as a precedent, paying for virtual care that providers are delivering out of sheer necessity.
This has given telehealth a boost, but challenges remain. Dr. Keswani is among many providers who worry that forcing patients to appear on camera is intrusive. Additionally, getting an accurate read of symptoms can be near impossible for certain diagnoses.
In 2018, U.S. health care spending accounted for 17.7% of the nation's GDP, reaching $3.6 trillion or $11,172 per person. COVID-19 has forced the "pilot" of telehealth, but could it cause a disruption to the massive amount of spending in the healthcare industry? CEO of Scripps Health, Chris Van Gordner, thinks so: "This is working well for all involved. So, I don't think we will ever go back to the old way of seeing and treating patients."