May 27, 2021
35 years ago this summer: The Founding of the Lowe Institute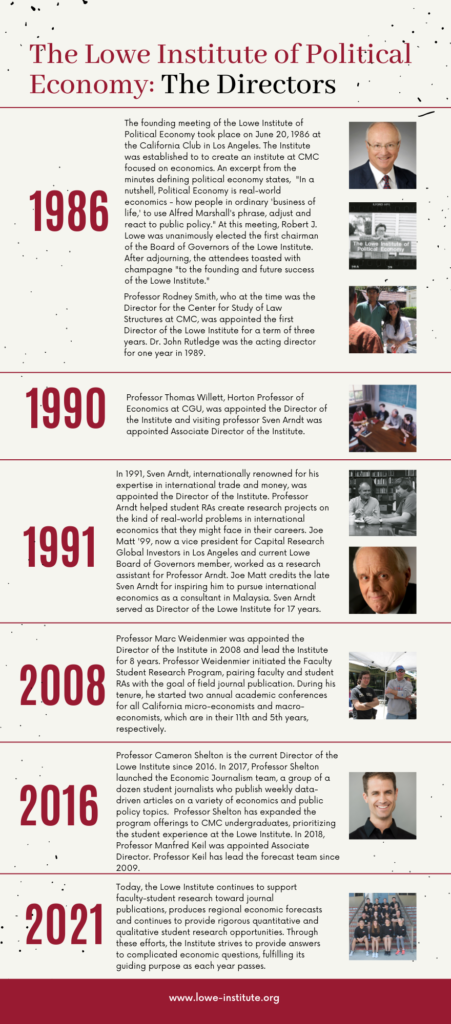 By: Julia Garbee, '22
This summer marks the 35th anniversary of the Lowe Institute of Political Economy. Since its founding, the Institute has championed student involvement in economic research.
In the mid 1980's, CMC President Jack Stark wished to expand the number of research institutes. Noting the absence of an institute focused on economics, Stark and Thomas Lowe, P'56, '62, GP '08, founded the Lowe Institute of Political Economy on June 20th, 1986 at the California Club in Los Angeles. The definition of Political Economy used by the institute has remained the same its founding, laying the foundation for the innovations possible by the institute today.
"The focus of Political Economy," as stated in the Lowe Institute's bylines, "is on how society's institutions affect and are affected by economic affairs."
During the founding, Bob Lowe '62 told his father, Thomas, that he wanted to be involved both financially and operationally. His nomination as founding chair was approved unanimously at the first meeting making Mr. Lowe the first, and to-date only, chairman of the Institute that bears his name. "The most memorable part of my education at CMC was when I got to know and communicate with professors," recalls Mr. Lowe. Giving students the opportunity to expand their learning by working with faculty is one of the three goals that the Lowe Institute has upheld since its founding days. The Lowe Institute also strives to bolster recognition of CMC's accomplishments and provide resources to faculty so they can further their research. Students working at the Institute learn a variety of quantitative skills, like data analytics, as well as qualitative skills such as verbal and written communication.
The Lowe Institute board of governors, in tandem with Lowe Institute directors, work to support this agenda. Board members David Fischer, Billy Greer, and Joe Matt have played leading roles with financial contributions and strategic advice.
While the goals of the institute have remained the same since its founding, student involvement as well as community outreach has grown substantially. In 1991, the Lowe Institute employed only four students. Now, in 2021, over 50 student researchers are spread between the economic journalist team, the forecasting team, and research assistant positions. The Lowe Institute has also strengthened its affiliation with the Inland Empire in recent years by partaking in the Inland Empire Economic Partnership. The forecast team, led by Professor Manfred Keil, generates robust macro-economic forecasts for the Inland Empire. The economic journalists, led by Professor Cameron Shelton, write data-driven articles that often focus on Southern California. While the Lowe Institute continues to expand and develop, the original goals set by Mr. Lowe remain the Institute's guiding principles.
This slideshow requires JavaScript.